By Lin Nah
A very thick Sweet Substance.  a Thick Liquid not Solid.  A byproduct of Sugar.
It is more refined than molasses or Treacle.  Here's the
List in the order of less to most refined
Molasses
Treacle
Golden Syrup

Hope that helps

but

I think that the last time this cyclic thread came round in rec.food.
cooking it was established that golden syrup is not one of the series of
more or less refined products of crude sugar.  Apparently it is made
according to a proprietory recipe from refined sugar.  The process may
involve blending treacle among other things with the sugar.

------------------------------------------------------------------------
Lyndon Watson                              L.Watson@csc.canterbury.ac.nz

---
New Zealand Guide Book Quick Links
Facts, Weather, Language, Food, Music, History, Hitchhicker's Guide, Natural History
Waitomo TOP 10 Holiday Park
- Holiday Park.
Just 600 metres from the famous Waitomo Glow Worm Caves, this award-winning holiday park features a large swimming...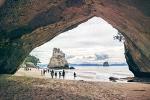 Cathedral Cove Day Trip from Auckland
- Day Tour - Hot Water Beach.
Starting from $300.00 per person
.
This unique day trip to the Coromandel Peninsula will take you to Te Whanganui-A-Hei (Cathedral Cove) Marine Reserve,...