The Physical Environment of New Zealand / Aotearoa
Geography, Natural History, Environment...
---
New Zealand Guide Book Quick Links
Facts, Weather, Language, Food, Music, History, Hitchhicker's Guide, Natural History
Airport Stableford B&B
- Bed and Breakfast.
Situated next to Russley Golf Club, Airport Stableford B&B is located in Christchurch. There is a regular bus service...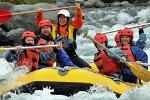 H2OHH White Water Rafting and Jet Boat Combo
- Jet Boating - Turangi.
Starting from $219.00 per person
.
H2-Ohhh COMBO Raft + Jet Boat
Lake Taupo's most exciting White Water adventure! 
Dash to the base of the...