Language in New Zealand
Though the main language spoken in New Zealand is currently English, it was not always so. Before European colonisation of New Zealand, the Maori people were the only in habitants of the islands.
---
New Zealand Guide Book Quick Links
Facts, Weather, Language, Food, Music, History, Hitchhicker's Guide, Natural History
By the Bay Beachfront Apartments
- Apartment Hotel.
Located in front of Coopers Beach, By the Bay Beachfront Apartments offer free Wi-Fi and a private balcony with lovely...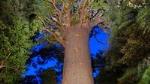 Waipoua Forest Evening Walk with Local Guide
- Hiking - Walking - Omapere.
Starting from $95.00 per person
.
Join this 4-hour evening tour for an intimate encounter to learn how these trees are inter-twined with the lives of...