Language in New Zealand
Though the main language spoken in New Zealand is currently English, it was not always so. Before European colonisation of New Zealand, the Maori people were the only in habitants of the islands.
---
New Zealand Guide Book Quick Links
Facts, Weather, Language, Food, Music, History, Hitchhicker's Guide, Natural History
Matamata Central Motel
- Motel.
Matamata Central Motel is a 20-minute drive from the Hobbiton Movie Set & Farm Tours, where parts of the Lord of the...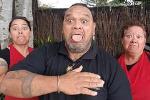 Maori cultural experiences and tour
- Maori - Whangarei.
Starting from $290.00 per person
.
You will meet the family, you will eat with the family and you will become part of the family.  Step off the tourist...